BRAY® SĪCON® Fuzz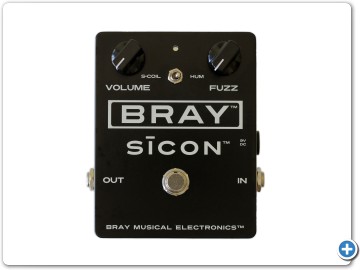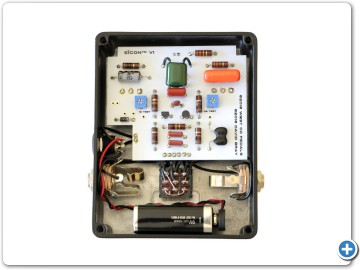 lightbox gallerie by VisualLightBox.com v6.0m
The BRAY® SĪCON® is based on the 60's and 70's dual-transistor fuzz pedals, with particular attention paid to gain structure, low end response, and overall EQ. It was a priority to make the SĪCON® flourish equally with both single coil and humbucking pickups. $200, plus $15 shipped USPS Priority anywhere in the continental US. For International rates, contact DAVID BRAY AMPS

SĪCON® players will experience a more controlled bass response, a treble response that is slightly warmer than a typical silicon unit, and a S-COIL / HUMBUCKER switch that expands pickup flexibility. The gain structure is slightly higher than most germanium units, while lower than most typical silicon versions. The careful attention to gain staging offers the player what I describe best as "musical controlled chaos".

The SĪCON® works extremely well in front of an overdriven amplifier, or as the sole producer of distortion in the signal chain feeding a clean amp. The SĪCON ® cleans up amazingly well with the guitar's volume pot with little drop in volume.

An internal trimpot for each transistor allows players to bias each transistor themselves, or leave them at the recommended bias voltage of 1.40-1.41 VDC for Q1 and 5.0-5.1 VDC for Q2. If you're not comfortable with the biasing procedure, it is best to leave the trimpots in their default settings.

The SĪCON® prototypes were started 10 years ago, with the hope of capturing the best qualities of this circuit, in a reliable and consistent product.

With the dedicated assistance of studio guitarist, producer, pedal designer, and great friend Bob Daspit of West Co Pedals, I am very pleased to now offer this unit to my customers.

* * *

Because of the subjective and personal nature of this type of fuzz unit, the SĪCON ® fuzz pedal is sold under a 10-DAY TRIAL PERIOD. The buyer has 10 days to send the unit back for a refund (minus possible 3% transaction fee, and excluding all shipping).

To be eligible, the buyer must contact DAVID BRAY AMPS, ship the unit back, and provide David Bray ® Amps with a tracking number, all of which must be completed within 10 days after the buyer receives the SĪCON ®. The pedal must be returned in the same perfectly new condition as it was first shipped. The buyer is responsible for all shipping fees. 

"Bray SĪCON , '63 Strat w/ Curtis Novak Vintage Strat pickups through a Bray 2022 Deluxe head. Scumback BM75 and BH75 speakers, Voodoo Lab Micro Vibe in a few places. Last past has some overdrive from the Bray 2022."
"Bray SĪCON , Les Paul w/ Classic '57 Plus pickups through a Bray 2022 Deluxe head. Scumback BM75 and BH75 speakers. Last past has some overdrive from the Bray 2022."